Smart Technology is Transforming the Architecture of the Garden
In addition to the rising popularity of smart home technology, we've noticed a 50% increase in the installation of garden automation systems, from outdoor mood-lighting programmed to match the weather, to lighting sensors which illuminate the garden as people move around it.
Your Smart Home owner Will Hopkins believes it's the gardeners' way of amalgamating technological advances into their outdoor spaces, but without the fussy wizardry of lots of gadgets.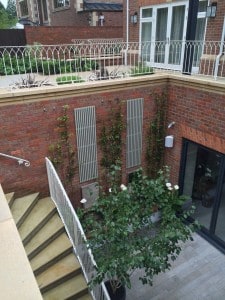 Proper smart garden automation shouldn't use many controls or gadgets. Sensors will enable technology to respond to changes in the environment or particular times of day or year. That's the future of smart gardens.
Fast becoming popular is the installation of sophisticated lighting programmes which comply with particular energy efficiency settings, or the integration of music into the garden to create a tranquil or party space depending on the occasion. Sound and lighting levels can be controlled by sensors; when more bodies are in the garden the sound goes up, or as the evening draws in, the lights get gradually brighter.
Lighting and sound form part of the architecture of the garden and gardeners are now looking on it as a work of art. It's not just for the rich and famous, but for those who want to maximise their outdoor spaces with the greatest convenience.
Top tips for integrating technology into the garden:-
Bounce light off tall structures to create a feeling of height, depth and space. This works particularly well in orchards, on feature trees or up pergolas
Consider different shades of light and bathe communal spaces in warm hues while whiter light works better within borders as it highlights creative planting
Use a combination of long beams of light with subtly placed mirrors to make spaces
feel larger. This works well in cottage or balcony gardens
To create a sense of theatre, particularly in entertaining spaces, back-light objects such as rose beds, fire-pits or lowered seating areas. It adds to the atmosphere.
Installing one centralised smart garden system keeps things simple and cost effective. The system can be controlled from one small, discreet hub, eliminating the need for numerous sockets, remote controls or devices
Smart garden automation systems start from £500 and can make a marked difference to the size, shape, style or mood of a garden.
To find out more about smart garden technology call us on 020 3397 3799 or contact us here.