John Lewis, Harrods… The Rise of the Consumer Smart Home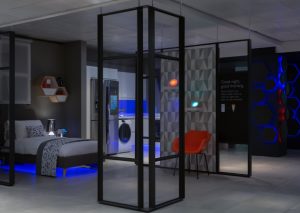 With both John Lewis, located on Oxford Street in London's busy shopping district, and luxury store Harrods, iconic landmark of the exclusive Knightsbridge area, now both featuring their own smart home demonstration rooms, it would seem that consumer (or DIY) smart home technology is certainly on the rise and this is a trend that is only likely to accelerate.
Having historically been reserved for the rich and famous, home automation was perceived as being out of the grasps of many, as installations could only be carried out by competent professionals, with advanced technical knowledge. Now though, all one has to do is simply walk to the new displays at John Lewis or Harrods and purchase a self learning Nest thermostat for just £199.00. In many ways this shift is a game changer and is certainly something that has raised a few eyebrows within the industry. However, the argument for this being a major cause for concern is questionable. The reason – whole house integration.
One of the most used features of a professionally installed smart home is the multi-room audio system. This provides the ability to listen to any of your music anywhere in the house, with each room (or "zone") either playing the same or different music. Just a few years ago a new product started to arrive on the market that threatened to undermine all of the traditional ways of installing. Instead of a high quality amplifier costing anything upwards of £1,000.00, consumers could now buy a little box. That little box was called Sonos, it costs as little as £169.00, and features in both of these new show rooms.
I have to admit that, originally, I saw this as a threat and would hate to hear that our sales team had been to a project to be told that they were installing Sonos. Aside from the poor financials for us, it just didn't seem right that a high end project would be utilising what we then saw as a DIY solution. However, it didn't take us long to realise that technologies and innovations like this should be embraced; Instead of actively avoiding the use of these products, we realised we could take advantage of the features that they offer. Whilst a full audio matrix amplifier will likely be the first choice solution in a large new build or complete renovation project, the Sonos system has provided our market place with a solution that can be easily installed, particularly in the retrofit environment, where it might not be practically possible to pull a conventional speaker wire. Additionally, the Sonos system provides rich music content, which many of the specialist control equipment manufacturers haven't the capacity/flexibility to support, in contrast to the resources available to products aimed at the consumer market. In this way, instead of directly competing the product has enhanced the offerings available.
The Sonos system does cover many of the audio related features that you might see in a professionally installed smart home, but like many of the products on display in these show rooms there is a distinct weakness – the lack of unified integration. Each element of the system works independently, the Nest thermostat is driven through the Nest App, the Sonos systems is driven through the Sonos App, the Philips Hue Lights are driven through their App and so on. Aside from the annoyance and inconvenience of having to "hop" between applications, a huge feature set and perhaps one of the main reasons for installing smart home technologies is lost; Properly installed smart homes offer seamless integration. Take for example the TV in your living room. In most homes your would have to turn the TV on, then turn your surround sound amplifier on, followed by your set top box or blu-ray player, which itself would mean you have to change the input source on either the TV or the amplifier. In a professionally installed smart home, a single button press would turn on all of these things and set all the required variables automatically. Apply this to consumer smart home technology and we're back to our starting point – doing this with the individual components not integrated as one system is essentially the same as doing this manually. All the smart phone application is giving you is another form of control, it is not providing automation – thus even though "home control" and "home automation" are terms often used synonymously, the reality is actually far different.
As the market continues to evolve, I would predict that we'll see a shift from "home control" to "home automation". Some of the products on show already exhibit elementary signs of automation, for instance, Nest Protect CO2 and Smoke Alarms can automatically shut off the boiler if it is controlled by a Nest Thermostat. However, link this up to a proper "top-level" control system such as Elan g!, Crestron, Control4, Savant, RTi or Amx, installed by a competent smart home installation company, and then this could also bring on lights in corridors in the event of fire, it could play an alarm through the multi-room audio system, and even send you and email with an image of the where the fire is.
Undoubtedly, these two new demonstrations that have opened up in London are positive in that they make the starting blocks of smart home technologies available to a wider audience whilst providing professional installers with a greater toolkit. With companies like Core Programming now producing drivers to enable integration between these new technologies and the major automations platforms, the use and integration of consumer smart home technologies is becoming much more accessible for professional smart home installers.
All of this raises the ultimate question – is there any need for professional smart home installers? In my view, yes there is. Just along the road from the Harrods show facility, Your Smart Home has a show facility located in Sub Zero & Wolf (251 Brompton Road). Both venues are commercial, yet there is something intrinsically different. In a morning you'll see Harrods staff going round and turning on each of the discrete components of the smart home display; in contrast the professionally installed system at Sub Zero & Wolf, automatically turns the components on whenever the shop is meant to be open, from setting mood lighting, turning on TV's and playing differing themed music in each zone (incidentally using a hybrid of Sonos players and a conventional multi-room audio amplifier). True seamless integration. This Knightsbridge setting also highlights the other reason why professional smart home installers are needed; Whilst there are many places in London where mass produced commodities can be purchased, Knightsbridge is home to many shops that provide only the finest, bespoke and hand made products. There is a level of quality that can only be achieved in an installation carried out by professionals, with many years of experience and even with the best intentions and easiest setup routines, a DIY type solution is never likely to come close to a premium solution.
About the Author – Will Hopkins
As CEO of Core Programming, a company specialising in enabling technologies to "talk" to each other, and as a Director at one of the UK's leading smart home installation companies, Your Smart Home, Will Hopkins is one of the few people to be uniquely positioned to understand the ins and outs of the ever growing connected home industry in the UK.