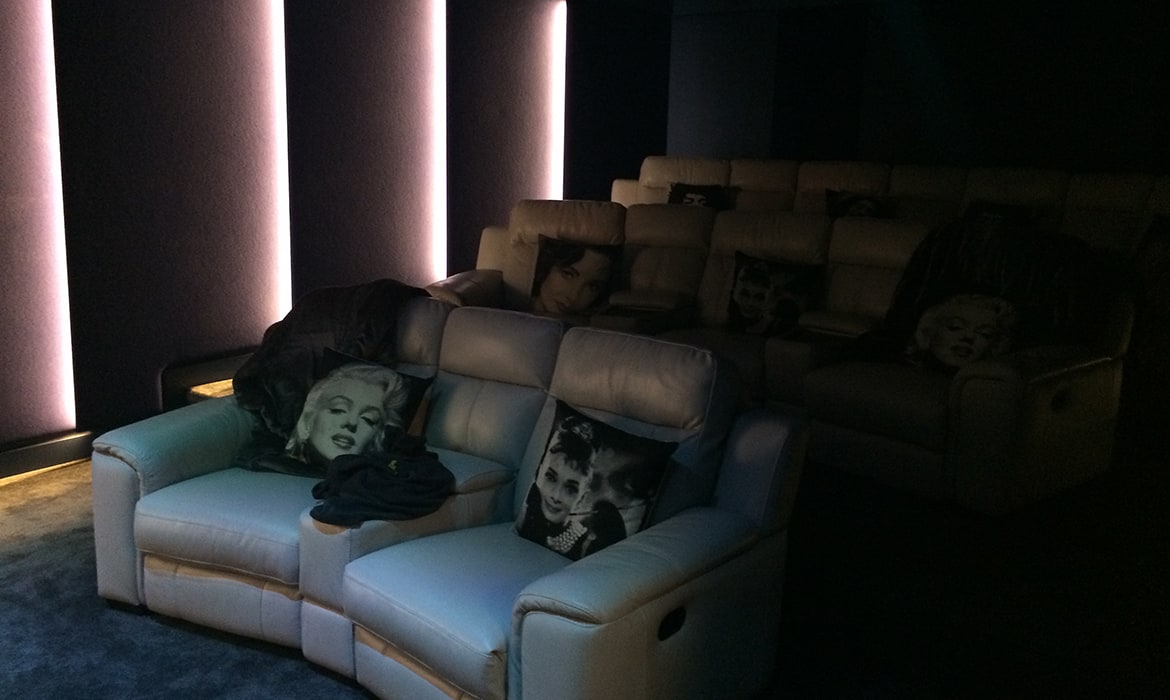 The magic of the big screen, in the comfort of your home
"Every time I see a movie, it's magic, no matter
what the movie is about"
Steven Spielberg
Bespoke Home Cinemas
You can enjoy top quality cinematic experiences in the comfort of your very own smart home; invite your friends and family for private showings and entertain the kids in the luxury of your own home. Smart home cinema systems can be fitted into almost any room, so whether you have space in the loft, an empty garage or an unused basement you can almost certainly accommodate one. Home cinemas are an integral part of smart homes and will quickly become one of your favourite rooms. Our home cinema installations aim to take you to the movies and beyond… with high definition images and sound to ensure that fully immersive experience and atmosphere in abundance!
Our team of award-winning sound engineers, and experienced AV specialists will create the perfect balance of design and performance ensuring the result is guaranteed to be exceptional.
Looks are everything! All of our installations are designed around you, so whatever your style we'll work with you to create a cinema room that is not only at the cutting edge of technology, but uniquely you. Our innovative use of stylish fixtures and fittings, alongside our ability to use invisible speakers means that your cinema still feels like a part of your smart home.
Technology 
Projectors – Get that cinema authenticity with superior picture quality from our range of HD and 3D HD projectors, expertly hidden away when not in use.
Televisions – Cutting edge low energy LED and Plasma TV's for the best HD and 3D HD viewing experience the industry can offer.
Sound – Keep your room beautiful, don't let the technology get in the way with invisible speakers. Ensure that true cinema experience with advanced surround HD audio, no matter where you are in the room.
Lighting – Automatic dimming mood lighting ensures that cinema atmosphere when you settle down to watch a film. AmBX technology uses surround lighting to fully immerse you in the film and take your home movie to a new dimension.
Movies on Demand – your entire video and film collection can be accessed without the need for DVDs or Blu-ray, and everything can be operated from one single home control.
Comfort – relax in style with our automated comfortable recliners, or join in the action with responsive seating that emulates on screen drama. Ensure other places in your smart home remain comfortable with our discrete sound proofing.
Cost 
Our home cinema installations offer great value, whatever your budget. Projectors, speakers, televisions and media servers can be purchased in isolation or we can design a complete home cinema package to suit your needs, perfectly tailored to get the most from your budget. Home cinemas can be installed as a single room project or as part of a wider smart home installation. So whether you want a redesign of your living room or are planning a purpose built cinema room give us a call to discuss your options. For more information you can also book one of our Free Home Surveys to see how a Home Cinema or theatre system could enhance your home.