Smart Home Automation Now 'Standard' Requirement of New Build Homes
Once a plaything of the rich and famous, smart home technology is now a pre-requisite for home buyers, with an increasing percentage of building developers installing home automation as a standard feature in new-build homes and flats.
We have noticed a 150 per cent increase in installations across houses and flats in large-scale new-build developments.
Prior to this, the majority of smart home technology installations were modifications to existing properties. The need for home automation at design and build stage demonstrates how buyers' requirements are changing.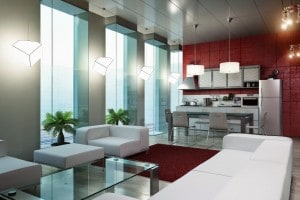 Will Hopkins, Owner of Your Smart Home comments: "As well as location, price and eco-credentials, smart home automation is now on the shopping list.
"Developers are acknowledging this by designing more brand-new 'smart' homes; everything from the starter home to the high-end mansion. Today, at the very least, home buyers expect audio visual automations such as music and DVD libraries stored digitally or heating systems which are mindful of budget."
Home automation offers life-enhancing technology such as running a bath using just the right amount of water and energy for a hot soak, to arranging for heating or lighting to go off when sensors detect the house is empty.
An entry-level automation system could cost £2,000 and add £8,000 to the value of a property, or provide an attractive USP to ensure a quick sale, making it a lucrative
business for developers.
More sophisticated smart home technology can include mobile-controlled home entry systems, where a front door camera projects video of visitors to your smart phone, to 'comfort cooling'; a green technology sensing when to raise and lower the temperature of a house.
Will continues: "Proper smart home technology shouldn't use much automation; a house should intuitively know what needs controlling and when. It's about simplifying rather than adding gadgets or fussy wearable technology.
"We're advising developers of this and making them aware of the need to satisfy the demand of the next generation of home buyers."
For a free valuation or for more information please contact us on 020 3397 3799 or click here.